Raglan Eel Farm – Become a Raglan Eel!
Nestled between the Waitetuna River and Hauroto Bay visitors can spend an hour or a day at the Raglan Eel Farm. This is a fully operational aquaculture, dairy, and fibre farm that offers a variety of learning and adventure modules. Trips can be tailored to focus or include science units such as estuary science and hydrology, freshwater ecology, harbour ecology, and rocky short ecology. Depending on group interests environmental stewardship can also be linked in to each module. For a full day of learning and adventure including hiking/tramping, kayaking, swimming, and sailing can be added*.
Eel Farm Tour
Key Concepts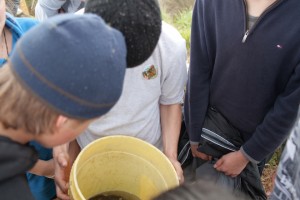 ? What does "sustainable" mean?
? Sustainable aquiculture: using the instincts of fish
? Eels: life cycle, historical attitudes
? Wetland ecosystem
A walking tour of the eel farm is an exciting way to learn about the environment and sustainability. Groups begin at the main farm and begin their trip (~1km return) to the eel ponds. Along the way the guide will provide wetland plant identification, such as various rushes and cutty grass, and their traditional uses. How these plants fit in to the estuary ecosystem, and New Zealand fish identification is also included with live and preserved examples. Groups will learn about how to use the instincts of these species to succeed in farming with minimal dependence on oil.
Fibres
Key Concepts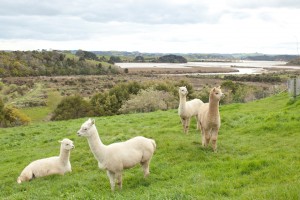 ? What does "sustainable" mean?
? Animal handling
? Fibre production
Along with the scaled and slimy, the Eel Farm is also home to furry friends. There are donkeys, alpaca, sheep, horses, dairy cows, cats, and dogs! Groups can learn how to train gregarious donkeys to do work on the farm by leading them with a halter and rope. Halter leading alpacas and fluffy crias (baby alpaca) is memorable experience that funnels into the discussion about natural fibres. There is a spinning wheel on site to demonstrate the historical preparation of fleeces. The eel pond tour and fibre unit can be used for larger groups to rotate between, or expanded independently.
Dairy Beef Operation
Key Concepts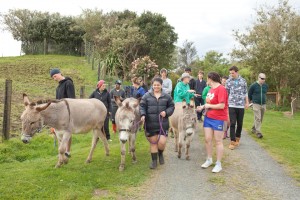 ? What does "sustainable" mean?
? Hands on farm work
? Soil cycles
30% of dairy production in New Zealand is located in the Waikato, so cows are a large part of the landscape. Groups can get hands on experience with dairy cows, and learn about the environmental impact of this type of farming with the on site herd. Activities are seasonal. Calves need to be fed in spring, with autumn/winter/spring being time for feeding out hay and bale work. During summer groups can help baling and storing hay. Year round these activities are accompanied by discussion around pasture composition, nitrogen fixation, and fencing.
Environmental Impacts of Farming
Key Concepts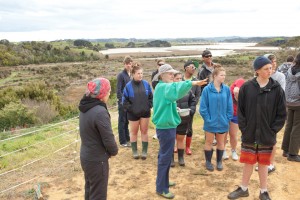 ? What does "sustainable" mean?
? Hands on farm work
? Erosion and water quality
This topic can be independent or incorporated with any of the other modules. As a standalone unit hands on projects are offered fencing, doing riparian planting, and working on drainage systems. Conversations topics accompany these projects such as erosion control and increasing water quality using plantings are complimented by on site examples. Groups learn how the eel farm uses agricultural effluent to grown plankton, which feed their fish. Plankton are netted from the ponds and viewed with a magnifying glass or microscope.
Become a Raglan Eel!
Key Concepts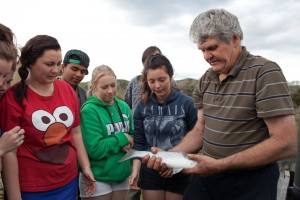 ? What does "sustainable" mean?
? Kayaking skills
? Estuary science
From the Eel Farm groups march down to the Waitetuna River to begin their journey. Next paddlers adventure kayak through the narrows of Hauroto Bay. Guides provide information about the history, geology and ecology of the estuary. Once through the bay kayakers swap their paddles and board the Wahine Moe boat charter. Groups cruise through the Raglan Harbour aboard this 15-metre vessel, passing beautiful scenery such as "pancake rocks". After the Wahine Moe cruise the boat docks at Raglan Wharf. The trip may function in reverse depending on tide and weather conditions.
*Swimming and kayaking are weather dependant. Sailing is suitable for smaller, older groups with some water skills.