Raglan Surfing School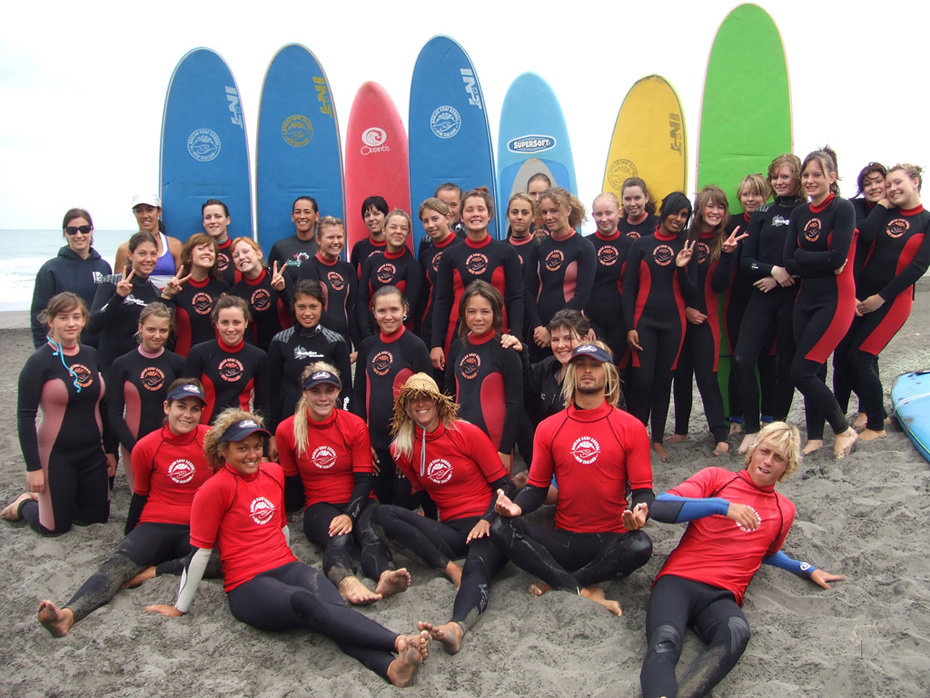 Looking for a super fun, educational & inspirational outdoor challenge for your students at the beach? Then we would like to talk with you about teaching your kids to surf with our specialised programme developed in conjunction with Water Safety & Surfing New Zealand!
Raglan Surfing School specialises in teaching school kids to stand up and surf. We've had the privilege of teaching this ancient Hawaiian sport to over 40 NZ schools & literally thousands of students- with our regular schools coming back every year to surf their socks off! We've got the experience & resources behind us to be able to provide an ocean activity that's challenging & thrilling but also educational and most importantly safe.
The 1:5 to 1:8 (depending on conditions) instructor to student ratios we adhere makes our school surfing programmes great value for money and ultimately means we can offer a better quality experience compared to other providers. Our crew of instructors are friendly, enthusiastic and keen to pass on their surfing knowledge to the kids. They will motivate your students – make them feel safe and comfortable in the water and will also cater to differing levels of ability amongst the group with the aim of getting them all up and riding. RSS instructors have the New Zealand Surfing Association NZSA surf coaching qualification as well as been trained life-guards so you can rest assured they're in capable hands.
RSS provides all surfing equipment including specially crafted soft surfboards that are easy to learn on, while reducing the risk of injury. A full range of wetsuits will keep the students warm year round. Students are introduced to the sport of surfing through a proven teaching program, which combines theory & practical coaching with land & water based instruction. A general lesson outline follows…
1. Ocean Environment & Water Safety
Ocean conditions, tides, currents and wave knowledge.
Ocean Preservation and Protection -environmental impact awareness.
2. Land-based Surfing Instruction
Practicing fundamental surfing techniques on land.
Surfing etiquette .
Surfboard maintenance and repair
Advice on selecting/purchasing surfboards
3. Water-based Surf Coaching (standard 3hr lesson includes 2hrs in the water)
Practicing fundamental surfing skills in the ocean.
Personalised School Packages
We tailor make school surfing packages to suit different budgets and group sizes and often organise other beach activities and adventure activities in addition to surfing for you. Popular options are beach volleyball & touch rugby, Raglan EELS,  kayaking, sunset harbour cruises and tramping. After an exhilarating surf session your students will be ravenous so picnic lunches or fish and chips can also be provided on the beach.
Camp Accommodation
The Raglan Surf School base in Whale Bay, the Karioi Lodge that is set on a 110-acre nature reserve and surrounded by lush green rainforest, provides an awesome share accommodation option for groups of up to 70. Check out the glow worm grottos at night, walk the bush track, enjoy the sauna & hang out up at the sunset lookout! Our luxury beach houses can also accommodate small groups & are in walking distance from each other in Whale Bay .
Catering Options
All meals can be catered for if you don't wish to make use of the full kitchen facilities at the Karioi Lodge. Our school BBQ's & pizza dough workshops for 'create your own' pizza nights are legendary! As a part of the camp experience students are taught the proper preparation and cooking methods of fresh foods. Catering options & sample menus are available on request.
Prices & Bookings
Costs for the Camps vary and are based on group size, time of year and services required.Please contact us for an estimate & the various options open to you.
Invitation
We extend an invitation to tour the R.S.S & camp facilities in Whale Bay to all interested schools. We'd love to show you around and discuss your schools requirements in person. Alternatively please contact us for more information on school surfing, bookings and availability of dates.
Please contact us for more details on.
Our Risk Management Plan
References from schools that have participated in our programme
Teaching special needs children to surf
A Surf Adventure Package for your school
Visit our Raglan Surfing School website for more information.